DataCounter Translation
If you want DataCounter in your own language, please help to translate it.

Reward: your name or twitter username in the hall of fame.

What do you have to do? 2 possibilities how to contribute:


Either use the translation-wizard
Create a free account on https://poeditor.com/join/project/qfuguLA1sr

Don't translate to german, danish,... (scroll down for list of already available languages).

Select a new language which is not already translated by clicking on "suggest a new language" (see screenshot below).



After that, go through the wizard (see screenshot below) and translate all terms.

Try to find a translation as short as possible.

Mail me (datacounter@vuni.info) your name to include in the hall of fame.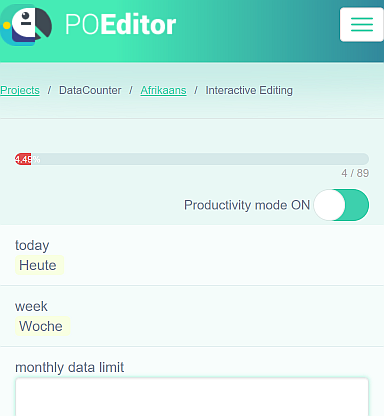 Or download translation.txt
Download https://vuni.info/translation.txt and translate all lines.

Mail your translation to datacounter@vuni.info and write what name you want in the hall of fame.

Hint: Keep your translated-textfile until I confirm and publish the update to avoid encoding problems or lost mails.

I always try to publish the translated app within 10 days.


Already available languages:
english
german
danish
russian
polish
slovenian
portuguese
bulgarian
chinese
italian
french
czech
dutch
indonesian
punjabi - india
spanish
japanese
turkish
persian
marathi
bengali
korean
gujarati
kannada
tamil
malayalam
hebrew
romanian
malay
hungarian